Shelly and Roy had a lot of things they wanted to do in Ireland, starting that first morning. Instead, they got lost in Dublin, which is designed to keep people from ever getting out. By the time they got to their B&B in Dun Laoghaire ("dun leery"), all they wanted to do was recover with a shower, a nap and a meal at a very nice Indian restaurant.
Seriously. We intended to skirt around downtown Dublin, but we didn't have a good map. There is a Tourist Information booth at the airport, and it would have been the right thing to do to pick up an atlas there. As it was, we got one at a gas station after we'd emerged from Dublin proper two hours after leaving the airport (that's a 30-minute drive to Dubliners). It still took us another hour to find our B&B. It's not really fair to run tourists through that gauntlet immediately upon arrival, when they're getting used to driving a manual transmission car on the left side of the road and are exhausted from being up for 24 hours. That's one reason we'd recommend flying into Shannon.
Our hostess in Dun Laoghaire was a little woman with a brisk, clipped voice. The initial impression you get is that she's not very friendly, but, in fact, she is. The room was also comfortable and soothing, though at this point, we weren't up to taking many pictures.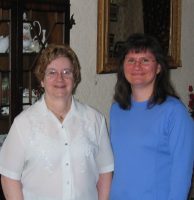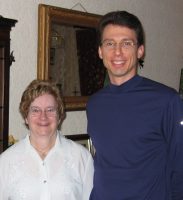 She had nice little gardens out front and in back...with gnomes! At breakfast, we saw our first European robins. They were nesting in her trees.