Starring...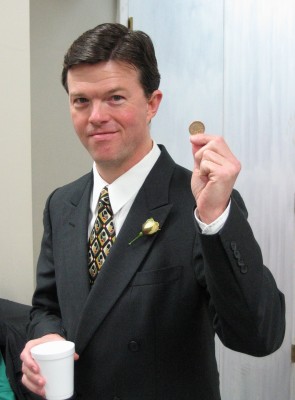 Joel Sandel is the consummate professional actor. He was always prepared, he knew all his lines by the time we started rehearsals, and he never had to be given any direction more than once. He was always in costume by the time I got to the theater, no matter how early I was.
But he did have one weakness, pictured here: Sacagawea. The staging called for him to make his first entrance while tossing the coin up and catching it, but he wasn't able to catch it consistently enough to do it onstage (nevermind that the lighting made the coin disappear from sight in the air).
Instead, the coin-flipping became a pre-show ritual. The only stage time it got was when it somehow leaped out of his pocket to the floor during his first song in one show.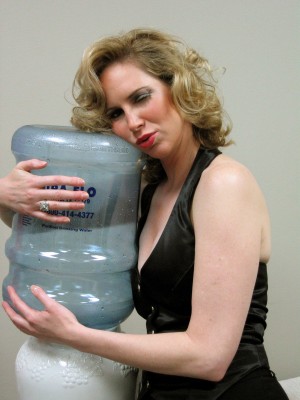 Doris Davis was perhaps the hardest-working actor in the group, which I found inspiring. Her approach (like mine) is to learn every detail, and then assemble them into the performance. That takes a lot of drilling, and every time she wasn't on stage, she was studying her part. Aspects of the role (other than being a gorgeous blonde) required her to stretch, and she mastered it with focus and perseverance.
Offstage, she is completely down-to-earth, without a trace of ego. The entire cast was like that, which was pretty remarkable to me.
We all liked the water cooler, but I think for Doris it went somewhat beyond that.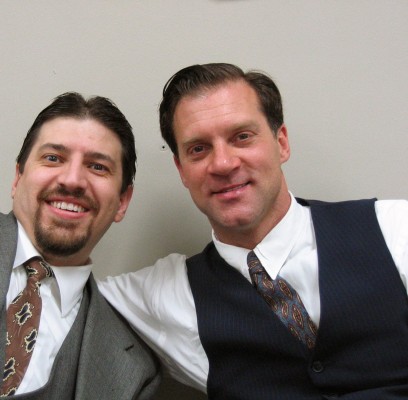 David LaDuca, pictured here on the right, approaches acting from the top down (just the opposite of me). He gets the big picture for his character and the scene, the general actions and theme, and then fills in the details like lines. That means that he can riff on things and not get derailed, and riff he does.
Backstage, he regaled the rest of the cast with stories of his time in New York (where he worked in theater) and the projects he's done and people he knows in Houston. We had a lot of fun with wordplay. And when he didn't like one of his lines, I rewrote it for him, and he liked it enough to use it.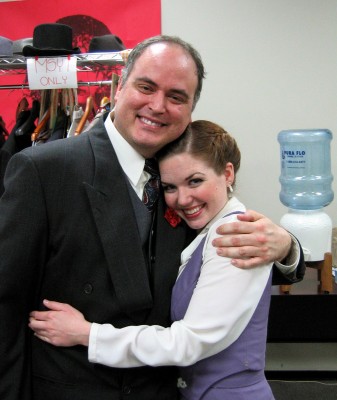 Kay Kahl (pronounced "Kale"), pictured here with Mike and the water cooler, is, like her character Frieda, "so pretty, so sweet, so charming" — but with a big soprano voice. Well, I guess Frieda had that, too.
Like Joel, she was prepared and always on top of things. And she was funny, which I think the audience underappreciated because they weren't expecting it.
One night backstage, she told me that her friends who came to the show all liked my voice. That was a treat for my ego, I can tell you. So to all of Kay's friends: I love you guys!