Musical Roles
It all started innocently enough: Joe White, a good friend since my days at Rice, told me he was auditioning for this show, and invited me to audition, too. Joe does a lot of theater, and we've worked together a few times. It is always fun, so I do it when I get a chance.
As it happened, the auditions were on May 19, Shelly's and my anniversary. That wasn't going to happen, so I sent a note to Nicole Morgan, the director, explaining that I am a tenor and would like to be in the barbershop quartet for the show (Joe also expected to be in the quartet), and asking if there were some way to audition at another time. I was sort of counting on the chronic shortage of men who can sing to get a little special treatment. She invited me to just show up at callbacks.
The shortage was worse than I expected. She had lined up a barbershop quartet already, so she was really looking to fill the supporting roles of Mayor Shinn, Charlie, and Marcellus. She liked the "creepy" way I read for Charlie, the anvil salesman who is on a mission to expose the swindling hero, Harold Hill, while Joe was a natural for Mayor Shinn. Bob Beare was cast as Harold Hill, and the role of Marcellus was left open. Cast members were encouraged to recruit their male friends.
I learned the lines for Charlie.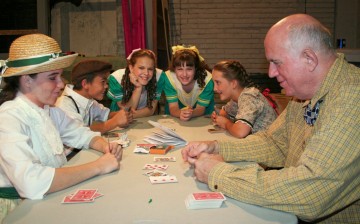 Jackie and Gerry Schicker play cards and trade insults while Connor Heaton, Jennifer Ander, Allyson Levine, and Candace Edgley mug for the camera.
Jackie Schicker, a teenager in the ensemble, brought her father, Gerry, in, expecting that he would be a town person. Nicole had him read for Marcellus, but his bass voice wasn't suited to the song Shipoopi. Because the song is a major piece of choreography, and we were doing all our choreography rehearsals first, it was important to have the role filled. So Nicole asked if I would move to Marcellus, so that Gerry could take over as Charlie. I said, "Wherever you want to put me is fine with me." When she announced the change of roles, Nicole joked that I might end up playing Harold. A good laugh was had by all.
I learned the lines for Marcellus.
Meanwhile, the barbershop quartet that had been lined up backed out, because the national convention coincided with our performance schedule. Nicole was left to put one together from the few men in the cast. And the need for a high tenor (pick me! pick me!) forced her to switch Kristi Blair from playing Mrs. Squires to playing Mr. Squires.
---