Florence, Oregon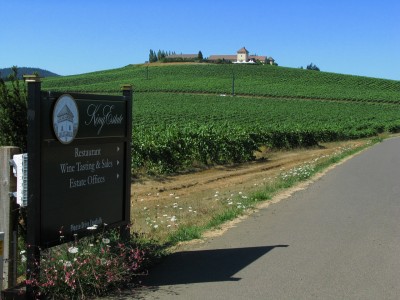 Our drive to the coast took us through some wine country, so we stopped at some of the wineries. Never having done it before, we didn't know what to expect. Our first winery was the King Estate, which has the feel of a luxurious country club. Or what we imagine such must be like.
As luck would have it, a tour was getting started shortly after we arrived, so we joined it. It was interesting. Wine-making is a relatively simple operation, but they do it on a really large scale. Not to say that there aren't much larger operations in existence, but this seemed pretty big to us.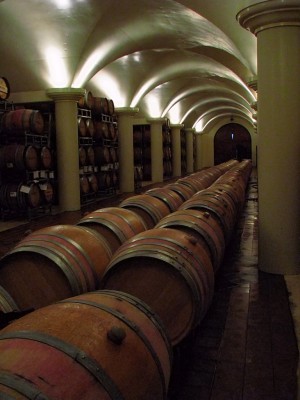 French oak barrels.
They do almost exclusively Pinot Gris and Pinot Noir, because the climate is best-suited to those varieties. The Gris is fermented and aged in stainless steel. Only the Noir is aged in oak. 2006 was considered to be the best recent vintage, but this year was looking promising.
At the end of the tour, we expected they'd have a little tasting for us, but they did not. We do not know whether there was a (free) tasting of wines available there. This was, after all, our first visit to a winery. We moved on.
Down the road, we stopped at the Sylvan Ridge/Hinman Winery, which is a much smaller place. They did not have a tour of the facility, but they did have a tasting room, where we could sample wines for free, and some others for a fee. We did both. In addition to being a smaller winery, they only had about five acres of grapes. The rest of their supply comes from growers in the region.
We liked their wines and enjoyed conversing with the hosts. It was a very quiet place, and we got absolutely no pictures of it.
Across the road was the Sweet Cheeks winery. It is a larger place, with a party atmosphere. They also had free tastings, as well as selling wine, cheese, and snacks. Their wines had cute names, but we didn't particularly like any of them. The did have an amusing sign: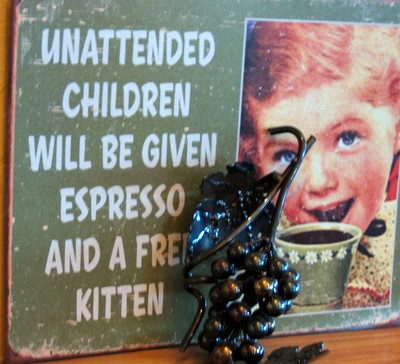 Sweet Cheeks terrace view
We arrived at the Driftwood Shores motel, in Florence, rather late in the day. The next morning when we woke up to enjoy the beachfront view from the balcony, we were surprised.

Where did the ocean go?
It was low tide, and the ocean had receded a long way into the fog. Tides are big in Oregon! Or maybe we should say beaches are flat, so the shoreline moves a lot for a few feet of depth. Roy went out to see what he could see. Answer: not much. The fog was quite thick over the beach. There was a point where some carcass had been and the buzzards were getting what they could from it.