Junction City, Oregon
When we were planning the trip, we noticed that Junction City, Oregon would be more-or-less on our travel path, and since Roy grew up in Junction City, Kansas, it seemed like a fun idea to stop by there and take a few pictures of things that say "Junction City". Looking into it further, we found that during our trip, the annual Scandanavian Festival was going to be held in Junction City! That cinched it. We had to put that in our schedule.
We booked the only B&B in the city, although it is not, in fact, in the city. White Oak Farm is closer to Veneta than to Junction City. But who cares? It's close enough.
We did visit the historical museum, and it was an interesting place. They had records and artifacts from the first settlers to the area, who were, unsurprisingly, Scandanavian.
Meanwhile, back on the farm...
Our hosts, Kris and Don, do farming and run their B&B on the same basis: things they want to do, rather than things they have to do to live. That makes them pretty relaxed and enjoyable, and we liked visiting with them and looking around the farm and gardens.
Don raises sheep regularly, and pigs seasonally. In addition, they have a number of "pet" animals: Katy the horse, Cher and Daisy the Highland cattle, Woozy(?) the cat, and most recently, Gus the Vietnamese pot-belly pig. They also have a number of Jacobs Sheep; they're probably in the "pet" category as well.
Oh, and chickens.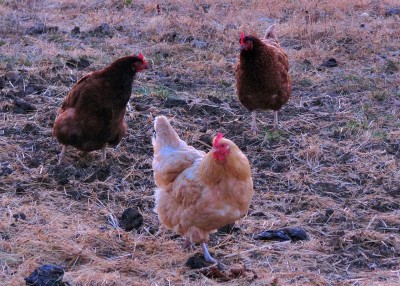 The farm, when they acquired it some years ago, came with a completely neglected apple orchard. They have been working at rejuvenating the trees, all old varieties. It's a nice bit of preservation they're doing, and they've done a lot with the place. If you're planning to stay in the Eugene area, consider White Oak Farm. But if you want to go to Scandi Fest, be sure to get your reservation in early, like we did. Kris told us that there were half a dozen calls asking for reservations after we'd booked.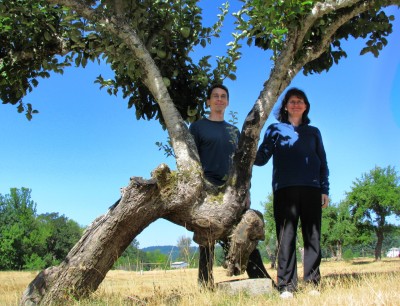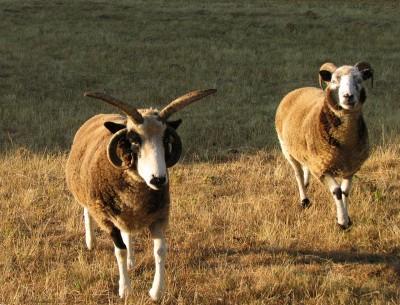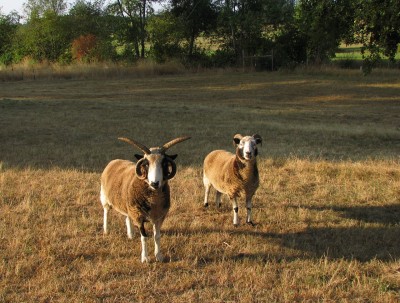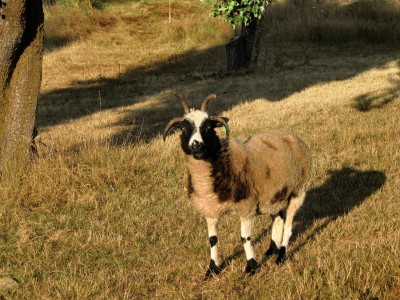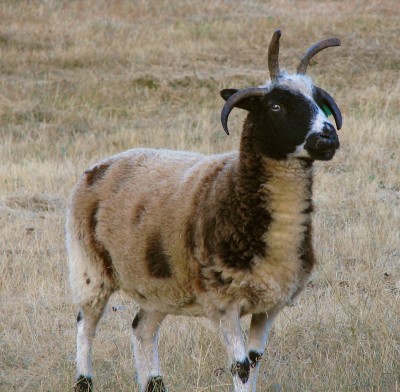 Gus the pig is smart and well-behaved. They adore him. Like many of their animals, he was a "rescue". He is definitely not going to wind up on a breakfast plate.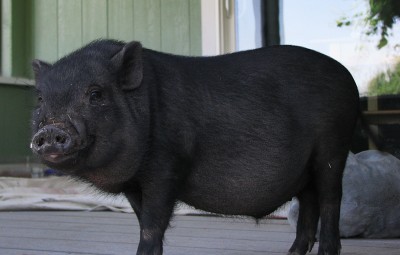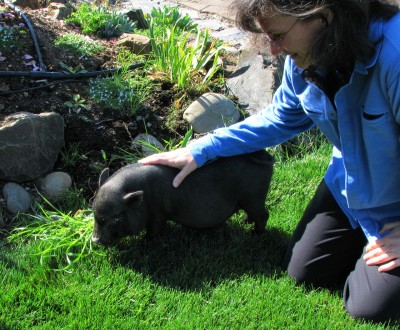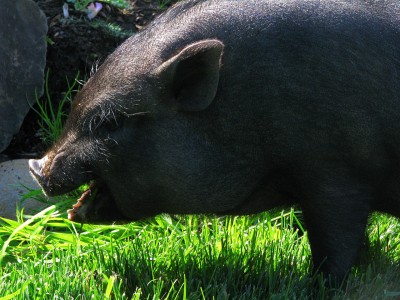 When we left White Oak Farm, we stopped at nearby Territorial Seed Company, from whom we have ordered for years. We were a little disappointed that the place wasn't bigger; it was just an ordinary garden store. They did have all the seeds we wanted, though, so that was good.