Three Capes Loop
We had breakfast at the B&B with a couple of newlyweds, Brian and Maureen. It was nice to get to visit with them. Then we headed back south a ways to Fogarty Creek (recommended to us by Aunt Shari and Uncle Ken), where we meandered around and enjoyed nature.
Our route from Lincoln City to Cannon Beach was along the coastal highway, US 101. However, 101 moves inland, so to stay along the coast, we took the Three Capes Loop.
The loop climbs through forested hills, and overlooks Netarts Bay.
We stopped at the Whiskey Creek Fish Hatchery and fed the fish. They raise trout and salmon to be released into waterways for recreational fishermen to catch. The fins are notched to mark the fish; fishermen can keep marked fish, but must throw back unmarked fish. The hope is that this keeps the native fish from being fished out.
Further along the Loop is Cape Meares State Scenic Viewpoint, featuring Oregon's shortest lighthouse, Cape Meares Lighthouse. It's not that the lighthouse isn't high above the ocean, it's just that they built it on a cliff. If you were a lighthouse operator who didn't like stairs, this would be the post for you.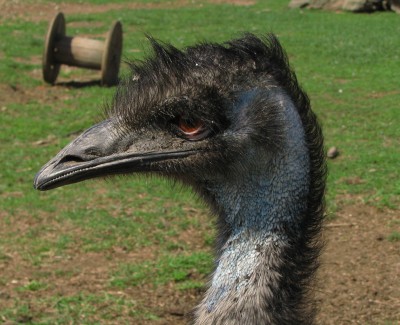 We stopped at Blue Heron French Cheese Company, which is a country-store style creamery. There were a number of animals on premises, including an emu. We looked at all their products, but didn't wind up buying any.
Then we got to the . It is not a country-store style creamery. It is a big business, and apparently a popular place for the public to come. It was a zoo. They have exhibits to tell you about their history, and places to watch the cheese being processed. And a restaurant, where we had lunch.
South of Garibaldi, rounding a bay (possibly Miami Cove) we saw a bunch of pelicans flying. Unfortunately, we weren't able to get a photo, but it was quite a striking experience.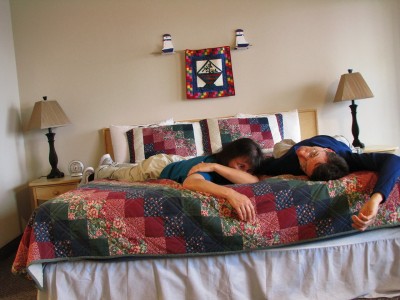 Bad directions and poor road signage coming from the south caused us to miss Cannon Beach. We had to turn around and come from the North, like they apparently expect everyone to do. We were crabby and exhausted.
Fortunately, it was a nice hotel, five years old.
Dinner was another madhouse. We went to Dooger's, where the wait was ridiculous, but we found out we could eat upstairs. Well, why didn't you say so? They were losing orders and comping people meals, but we didn't win that lottery. Back to bed to get an early start.