Tidepooling at Yaquina Head
Thus far, due to the timing of the tide, we had found no opportunities for tidepooling. The tide was going out as we traveled, but it had not reach really low levels. And our check-in at the B&B was 4pm (so we thought). We hustled on up to Lincoln City and checked in, at which time we realized that we were actually due at 5. Oh, well. We got a recommendation for dinner and headed back down the coast to Yaquina Head Outstanding Natural Area.
Although we were a little annoyed that we had to backtrack, and the lighthouse was closed for tours by the time we got there, the timing was perfect for the tide. We arrived as the tide was at its lowest and it started to come in while we were there. We finally got to discover the excitement of the tidepools!
Basalt stacks provide surfaces for barnacles to anchor themselves on. Barnacles, along with mussels, are typically in the highest places that are regularly covered by high tides. Anemones and starfish are generally lower, although the starfish do go into the mussel beds to eat.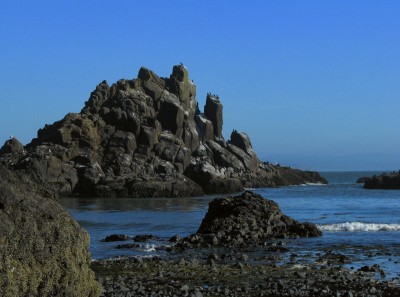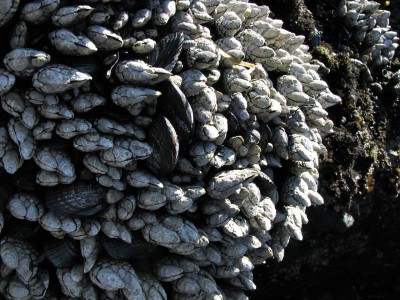 The lighthouse was picturesque, but was only of secondary interest. We'd toured one. This one is the tallest on the coast, but otherwise, it's just another lighthouse.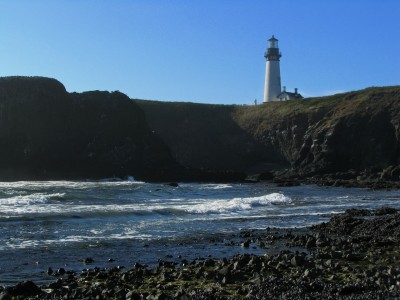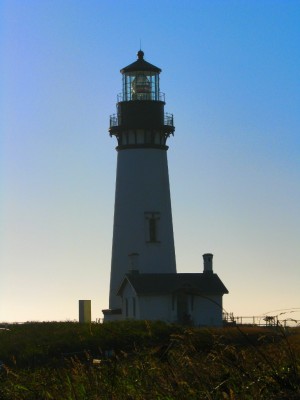 After a day of disappointment, it was very exciting to finally see living things in the water. We had to hunt for a while, but we saw our first starfish! And anemones! As we got more practice in spotting, we noticed more of them.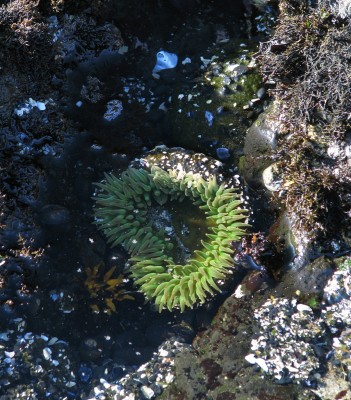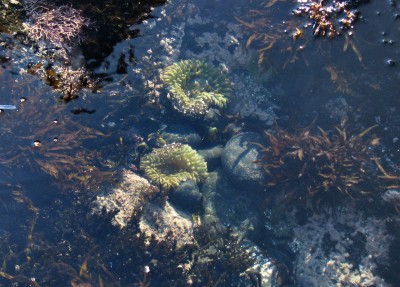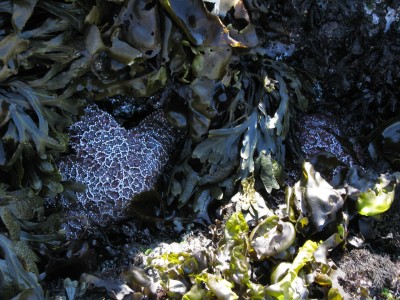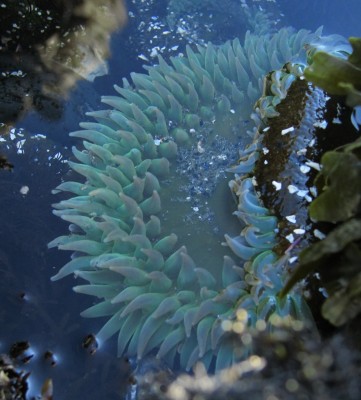 Dinner was at the Chinook Winds Casino Restaurant, which was very good. In the Clam Chowder Competition, its primary deficit was that there appeared to be no clams. On the plus side, the potatoes were perfectly cooked, so for a potatoes-in-milk soup, it was great. Besides that, dinner was quite good.
Back in our room for the night, we were pretty happy with our day's events. Our B&B was tucked away in a quiet cove on Devil's Lake. Quite different from being right on the coast. Our host had just opened the B&B in May. She is an artist and her place is full of her works, as well as being decorated with an artist's eye. There were some issues of practicality we had to work out.